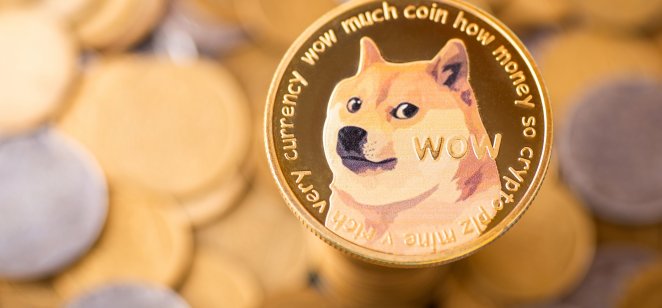 After cryptocurrency markets turned bearish in 2022, some of the shine has faded from popular meme coins, led by dogcoin (DOGE).
But now that Ethereum's merge upgrade was completed on September 15 and the blockchain switched from Proof-of-Work (PoW) to Proof-of-Stake (PoS), Dogecoin has become the second largest PoW blockchain after Bitcoin , measured by market capitalization.
What is Dogecoin? What are the latest developments of the project as well as the risks and opportunities that investors should know about?
What is Dogecoin?
The Dogecoin cryptocurrency was launched in 2013 by Billy Markus and Jackson Palmer, software developers at IBM (IBM) and Adobe (ADBE), respectively. They launched the coin as a hoax, poking fun at the explosion of alternative coins (altcoins) trying to become the next Bitcoin (BTC). Dogecoin leveraged the popular internet meme featuring a Shiba Inu dog.
Although DOGE started out as satire and was not meant to be used as serious currency, the meme coin soon gained popularity on social media as its low value (price at launch was $0.000232) made it useful for small online transactions made without incurring high fees.
What is your take on DOGE/USD?
Vote to see trader sentiment!
How does Dogecoin work?
The Dogecoin blockchain protocol is based on the open-source coding of the Luckycoin cryptocurrency, which is no longer in circulation. Luckycoin was a hard fork, or fork, of the Litecoin blockchain, which was a hard fork of the Bitcoin chain.
How does Dogecoin work? As it uses a PoW consensus mechanism, Dogecoin is mined in a manner similar to Bitcoin. Computers and servers act as nodes that mine coins by validating transactions and adding them to the blockchain ledger as new blocks and receiving coins as rewards. The reward for creating blocks is 10,000 DOGE, and a new block is created every minute.
What is DOGE? DOGE is the native coin on the Dogecoin blockchain. DOGE was created with a supply cap of 100 billion, but the cap on Dogecoin circulation was later removed, unlike other coins that have a limit or institute regular coin burning to reduce circulation supply and support prices.
Dogecoin's meme status is driving price volatility
Dogecoin's price history shows that the coin was relatively stable from 2013 until a sharp rally in cryptocurrency markets in 2021, when they gained popularity on social media. Dogecoin's rapid gains prompted other developers to launch dog-themed Shiba Inu memcoins such as Shiba Inu (SHIB), Floki Inu (FLOKI), and Dogelon Mars (ELON).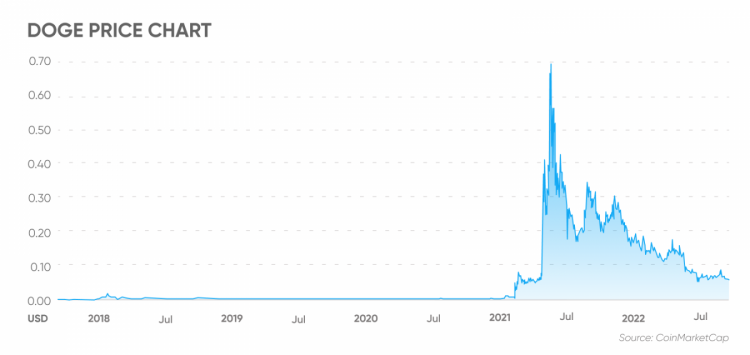 Markus and Palmer had left the Dogecoin project after it started and developed their own community and there was no development of the protocol. But the Dogecoin Foundation was relaunched in 2021 to provide development and governance support.
Tesla (TSLA) CEO Elon Musk, who has endorsed Dogecoin as the "crypto of the people," is represented on the Dogecoin Foundation leadership.
Dogecoin crypto price is highly volatile as social media communities often cause large spikes and subsequent crashes.
DOGE surged from $0.004681 in early 2021 to its all-time high of $0.7376 on May 8, 2021, a rise of more than 15,650%, but then quickly fell in response to Musk's appearance on the Saturday night live TV show in the US. Musk called Dogecoin a "hustle" after speaking about it on social media for the past few weeks.
DOGE fell to $0.30 by the end of May 2021, reaching $0.1607 on July 20 as cryptocurrency markets bottomed ahead of a summer rally. The price rose to $0.351 on August 16 but retreated to $0.1945 on September 26. DOGE rallied to $0.2819 on Oct 24 but turned bearish towards 2022 along with the broader markets that were under pressure for most of the year.
DOGE started 2022 at $0.1705 and rose to $0.2032 on January 14th but sold to $0.1272 on January 24th. It failed to sustain the rally to $0.1716 on February 7th and fell to $0.1107 on March 13th before rallying to the $0.17 level on April 5th.
DOGE fell to $0.07004 on May 12 as cryptocurrency markets reacted to the collapse of the Terra Luna ecosystem and the US dollar hit a 20-year high.
DOGE traded at $0.04972 on June 18, its lowest since early 2021. The coin traded in a range of $0.06 to $0.07 until a brief rally in meme stocks and coins, led by retail investors on social media, pushed the price up to $0.08864 on Aug. 16. But DOGE quickly fell back and traded around $0.06 again. The price fell below this level to trade at $0.05752 on Sep 18 and has been struggling to hold above $0.06 ever since.
On September 21st, Markus tweeted under the name Shibetoshi Nakamoto that "it can only get worse".
Dogecoin Developments
What is the use of dogecoin? DOGE is mainly used to pay for transactions with shops and services. DOGE is accepted by more than 2,000 retailers including cinema chain AMC via their mobile app.
But unlike other blockchains, Dogecoin does not run smart contracts for decentralized applications (dApps). In August, an independent development community launched Dogechain, an Ethereum-compatible PoS blockchain layer on the Dogecoin blockchain that allows holders to use DOGE for non-fungible tokens (NFTs), games, and dApps. The project is not affiliated with the Dogecoin Foundation. Dogechain uses Polygon Edge's own-brand framework.
Dogechain users can use DOGE to pay gas fees and receive airdrops of the new DC token, allowing holders to participate in governance.
On September 7th, ChainPort became the first cross-chain bridge to support Dogechain. "With ChainPort's support, users can easily transfer tokens from multiple supported blockchain ecosystems to Dogechain," ChainPort said. "Supported chains include Ethereum, BSC, Polygon and Fantom, with more native token support to be added soon."
Meanwhile, in the latest Dogecoin news on September 12, the Dogecoin Foundation has joined the decentralized autonomous organization (DAO) wDoge project being developed by startup Blue Pepper to build a bridge between Dogecoin and Ethereum.
What are the risks and opportunities of investing in DOGE?
There are several advantages of holding Dogecoin as an investment:
High price volatility that can lead to big wins

An active, growing community and open source development projects

Widespread stock exchange listings make trading convenient

Unique market positioning as the first meme coin
However, if you intend to invest in DOGE, you must also consider disadvantages:
High price volatility that can lead to high losses

No bid cap limiting how high the price can go

Limited technical development and support

Limited uses beyond small digital payments

Investors may lose interest in meme coins and stocks
If you are considering investing in cryptocurrencies like Dogecoin, we recommend that you always do your own research. View the latest market trends, news, technical and fundamental analysis and expert opinion before making an investment decision. Remember that past performance is no guarantee of future returns.
frequently asked Questions
What is Dogecoin used for?

Dogecoin is used to pay for transactions with low processing fees, known as gas fees. Launched in August 2022, the Dogechain project aims to enable DOGE holders to use DOGE for NFTs, blockchain games and decentralized apps.
How many Dogecoins are left?

According to CoinMarketCap, there are 132.67 billion DOGE in circulation at the time of writing on Sept. 23. There is no limit to the circulating supply of Dogecoins and no coin burning mechanism.
Can Dogecoin reach $1?

Whether Dogecoin can return to $1 levels could depend on the mood in the cryptocurrency markets and the popularity of the meme coin among investors on social media, among other factors.

It is important to remember that cryptocurrency prices are highly volatile and difficult to predict. Remember that past performance is no guarantee of future returns. Always do your own research. And never invest what you can't afford to lose.
How many Dogecoins are made per day?

With each block created, 10,000 DOGE are mined, so with one block created every minute, 1.44 million DOGE are created every day.
Continue reading: