news
Tom explains what's new in vSphere 8 (and why people are excited about it)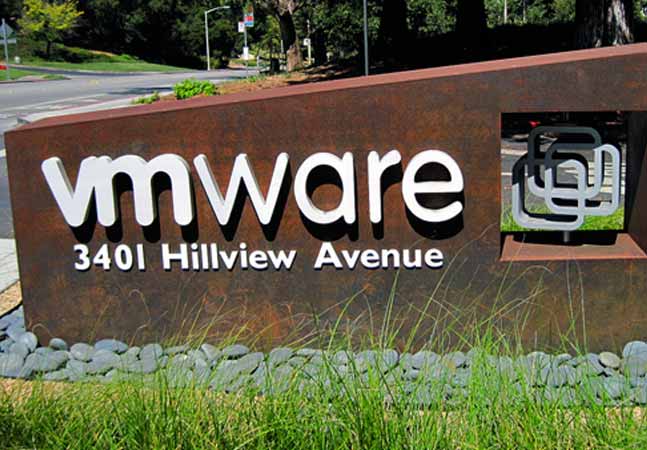 vSphere 8 was one of the hottest topics at VMware Explore this year. After reading through the documentation and watching a few sessions, I had a chance to find out why people are excited about what I'm about to discuss in this article.
Although vCenter Server and ESXi hosts are usually the vSphere components that come to mind first, vSphere is actually made up of many other components and features such as VMware vSphere Storage DRS, VMware vSphere Fault Tolerance, vRealize Orchestrator, and vSphere Lifecycle Manager.
Why vSphere 8?
As the industry continues to adopt technologies such as cloud, edge computing, and software-as-a-service (SaaS) applications, VMware has recognized that they need to extend their flagship product (vSphere) to better align with these trends. In this regard, VMware has outlined three current needs they see in the industry: additional server capacity, specialized infrastructure silos, and a CPU-centric security model.
Even if you run your vCenter server and ESXi hosts locally, you can still access them through the vSphere cloud console available in vSphere 8. This allows you to access your vSphere environment(s) as well as other cloud services whether you are in your data center or not. This is the same cloud console used by VMware Cloud on AWS, Google Cloud and Azure.
The VMware Cloud Portal accesses on-premises vSphere resources to the Cloud Console through an on-premises gateway. Of course, the cloud portal can access multiple local vSphere environments as well as public cloud resources.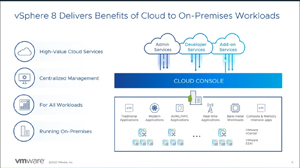 A look at the Cloud Console
The Cloud Console layout is intuitive and has a menu bar on the left.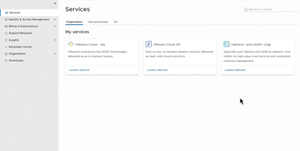 More details are shown in the center panel, and many of the individual components can be expanded for more specific information.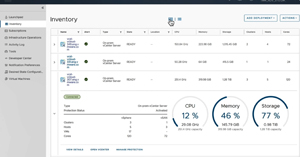 Some of the other vSphere components like vRealize are visible in the Cloud Console.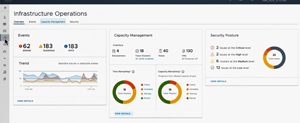 virtual machines
When deploying VMs through the Cloud Console, you can decide which vCenter will host them.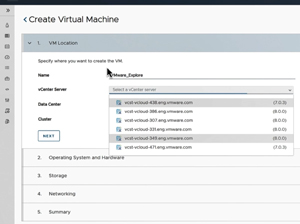 For VM placement, vSphere now has Enhanced Memory Monitoring and Remediation (vMMR2) that considers memory statistics, latency, and miss rates when deciding where a VM should reside.
Infrastructure-as-a-Service (IaaS) is mandatory in both large and small data centers. To help with this, vSphere has a handy feature that shows the YAML code that can be used to programmatically deploy a VM when you create one.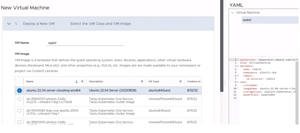 vSphere 8 and DPUs
I've been interested in Data Process Units (DPUs) for a long time and vSphere 8 has the vSphere Distributed Service Engine to support them.
DPUs reside on servers and take over functions such as networking and security from the server to free up the central processor to run applications. An integrated engine allows you to more tightly coordinate the functions on the server and the DPUs to manage the workloads on each of them.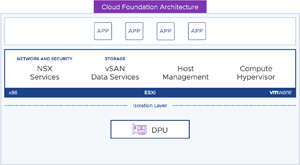 To clarify the need for DPUs in a presentation, VMware indicated that up to 30 percent of CPU capacity is consumed by network and security services.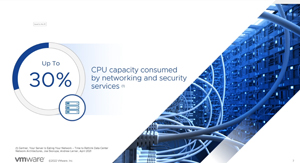 One of the nice features regarding DPUs is that if an ESXi host sees a DPU on it, it will detect it and give you the option to install ESXi on the DPU!
Faster updates
vSphere 8 supports a fast update feature that significantly reduces downtime when updating a vCenter Server. This is accomplished by creating a new vCenter Server and then inheriting the configuration and persistent data from an existing vCenter Server. This has the added benefit that if you have upgrade issues, you can revert to the old vCenter server by restoring the old instance.
Updating ESXi hosts is faster and more streamlined by pre-staging the ESXi image and allowing multiple hosts to be remediated in parallel.
Conclusion
Overall, vSphere 8 is a natural progression for VMware. Of course, the most visible change is the Cloud Connector, which allows administrators to access vSphere environments regardless of their location. In terms of features, I like the fact that they currently take DPUs and turn them into first class citizens and make it easier to deploy VMs using YAML code.
VMware has a hands-on lab with vSphere Distributed Services Engine and other vSphere 8 technologies for those who want to dig deeper.

Tom Fenton has extensive hands-on IT experience gained over the past 25 years across a variety of technologies, with a focus on virtualization and storage for the past 15 years. He currently works as Technical Marketing Manager for ControlUp. He previously worked at VMware as a Senior Course Developer, Solutions Engineer and in the Competitive Marketing Group. He has also worked as a Senior Validation Engineer at The Taneja Group, where he led the Validation Service Lab and was instrumental in building the vSphere Virtual Volumes practice. He is on Twitter @vDoppler.