As promised by Capcom a few days ago, we've seen what's new for Resident Evil Village. Although some of the upcoming updates have been revealed to us before, some details about the future of this title have been revealed.
The legacy of winter lives on
A new trailer showed a glimpse of Winters' expansion, the upcoming DLC ​​for Resident Evil Village. In this one, alongside more aspects of first-person mode, we see a little more about 16-year-old Rose and what makes her want to come back and face her fears. Set in the future, the trailer shows Rose visiting Ethan's grave and returning to the source of her misfortune to get rid of her powers.
Expansion Director Kento Kinoshita gave more details about this expansion, its history and what to expect. The first thing he wants to explore with this expansion is what kind of person a 16 year old Rose is. This with the idea that she will return to the village to get rid of her powers, although this will lead her into a world of nightmares. The fear in this part comes straight out of the nightmares and bad memories are at the core of the memories we will encounter.
Balanced mercenaries
As for the Mercenaries mode, Kinoshita said he's looking for characters that would be interesting to people who don't play the mode. This led to the incorporation of characters called Lords, which allow them to have abilities and attacks that a normal human wouldn't have, and which turn out to be more fun. As for the enemies, this time players don't have to wait so long to have a good pace and have fun.
A change of perspective
Playing a first-person horror game can be "incredibly scary" or even induce motion sickness in players from that perspective. Therefore, these factors have been considered to create a mode that players can fully enjoy. While Kinoshita says he doesn't find the third-person experience scary, he does mention that it can be an excellent way for players to return to the title, both as a game and as an experience. This announced that a 60 minute demo of this perspective will be available starting today at 4:00pm PDT.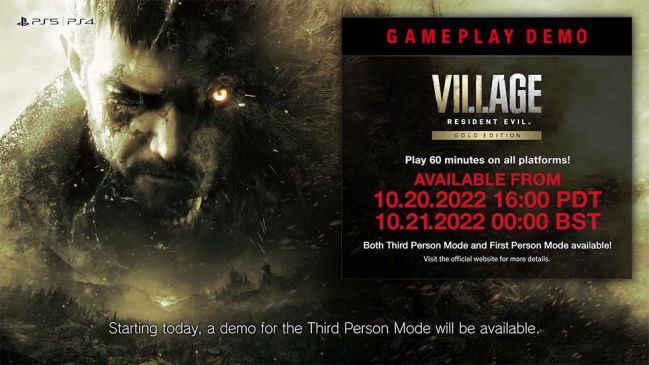 A virtual perspective
Finally, Sony's Senior Director of Technology, Kenjo Akiyama, spoke about the benefits the game will bring when the PS VR2 arrives. He mentioned that the RE7 mode has been well received and aims to enhance this experience in every way, from the visual enhancement with 4K and HDR to show the "beautiful and bizarre world of Resident Evil Village" to taking advantage of the improved audio the Tempest 3D Audio. It will also be more intuitive to control thanks to the new PS VR Sense controllers, letting you feel the feel of the guns.
As previously announced, Resident Evil Village, Winters' expansion will be available on October 28th for PS5, PS4, Xbox One, Xbox Series X|S and PC.