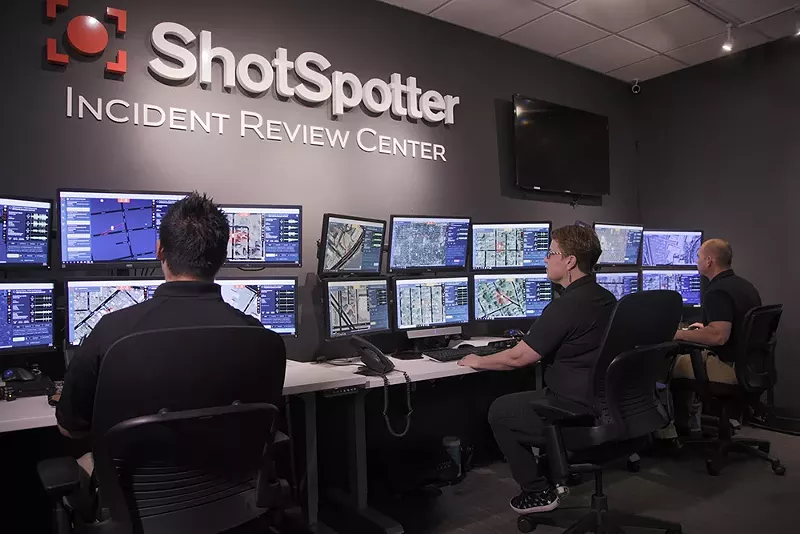 Many Detroiters were shocked and appalled last Thursday when city officials and the Detroit Police Department put up cardboard headstones as a publicity stunt during a community meeting to generate support for the proposed expansion of the ShotSpotter program. Every Detroiter deserves to feel safe. But this security theater charade is not the way to go.
The company and our officials are attempting to persuade townspeople through a well-funded and calculated publicity campaign that ShotSpotter offers a solution, when in fact this technology has proven time and time again that it does nothing to reduce gun violence—yet increase the survival rates of gunshot victims. The willingness of our officials to repeat ShotSpotter's talking points and engage in cheap antics as demonstrated last week is shocking and deeply wrong on every possible level. The ShotSpotter ad manipulates Detroiters' very real concerns about gun violence. It also illustrates ShotSpotter's true agenda: profiting from violence and damage.
ShotSpotter occupies a unique position among surveillance technology companies. As the only supplier of metropolitan gunshot detection systems in the United States, they have a virtual monopoly on the market. That means the company can focus on lobbying for inclusion in a number of congressional grant packages: an approach that's proven extremely effective in getting its hardware placed in cities across the country. ShotSpotter is very adept at developing and delivering promotional materials specifically aimed at law enforcement agencies, guiding them through the acquisition of these forms of funding, and aiming to convince community members that the technology is an efficient and unbiased way to target people protect against violence. No matter that, once installed, these systems do nothing to actually reduce gun violence — or that so many communities have canceled their ShotSpotter contracts — the real agenda is to get this data collection infrastructure in place.
Once anchored, the company's long-term position in the logistics of policing is secured. Far from reducing violence, ShotSpotter aims to integrate as much as possible into the day-to-day occurrences of crime and police, collecting multiple streams of data that can be sold to research institutions and government agencies like the FBI. CEO Ralph Clark describes this as a sustainable model that will be profitable "15, 20 years" into the future. In communities struggling with violence and crime, data collection — which Clark describes as a central asset to ShotSpotter's overall agenda — is big business.
ShotSpotter is adept at manipulating public fears and sentiment. In the summer of 2020, ShotSpotter reinvented its image to capitalize on this period of national attention to the violence and brutality of policing. Sensing the national climate, in which police departments were under intense pressure to present themselves in response to community concerns about abuse and racism, ShotSpotter deftly released a range of marketing materials and redesigned its website to reflect a stance of the Moderation, Reform, and Just Policing. The same products and services that were already in development – gunshot detection powered by artificial intelligence – were now being marketed as tools to reform policing and combat racial prejudice. ShotSpotter CEO Ralph Clark made statements explicitly benefiting from the Black Lives Matter movement and the murder of George Floyd, while making empty — and dangerous — claims that these technologies would lead to fairer policing practices.
In reality, the true goal of most of these "innovations" is to produce and sell as much data as possible. ShotSpotter's suite of products – from shot detection to "patrol management" and evidence collection workflows – provides the company with every opportunity to fit into the day-to-day operations of law enforcement and benefit from the streams of data that are a by-product of automated management and police deployment .
In his descriptions of the company's technologies, ShotSpotter plays with the image of technological objectivity and the appearance of rational solutions to crime: he gives the layperson the illusion that a carefully calculated police "dose" can prevent abuse and provide security. But no amount of calibration changes the fact that this technology is bringing armed cops into the community ready for a shootout. The technology may be "racially neutral," but its application and the police officers who respond to the calls are not.
The ShotSpotter ad manipulates Detroiters' very real concerns about gun violence. It also illustrates ShotSpotter's true agenda: profiting from violence and damage.

tweet this
The problem has never been just individual bias: the entire institution of policing targets and harms black, brown, and blue-collar communities, both through the violence of policing and the greater structural violence of underinvestment; Violence compounded by the misallocation of resources, such as the $8 million proposed to expand the ShotSpotter program. Across the country, ShotSpotter is predominantly used in black and brown communities, and placing ShotSpotter's data collection infrastructure in targeted neighborhoods only exacerbates over-policing.
Antics like those displayed at the September 22 meeting are nothing more than a callous appropriation of the need for real solutions to gun violence and the need for real changes in our attitudes toward policing in Detroit and across the United States. But ShotSpotter is a company that has absolutely no intention of actually reducing gun violence because its entire business model depends on it. ShotSpotter's calculated PR strategy insults and underestimates the vast resources of intelligence, creativity and knowledge that already exist here in Detroit.
Detroiters know better than anyone how to build community and how to take care of each other. Our longtime residents are the real experts. That's why dedicated activists keep calling for collective resources to support these forms of knowledge: finding solutions that can protect us all, in ways that actually address harm, provide long-term solutions, fully support our communities, and address root causes from violence.
ShotSpotter profits from violence and tries to put us all in the service of profit. This is literally the monetization of pain and suffering. Detroit deserves better.
Rebecca Smith lives in Detroit. She is a graduate student at the University of Michigan doing research on surveillance technology and public safety in Detroit.
Stay connected with the Detroit Metro Times. Subscribe to our newsletter and follow us on Google News, Apple News, TwitterFacebook, Instagram, Reddit or TikTok.