Internet access is being restricted in Iran as violent protests sparked by the death of a woman in police custody spread across the country, according to residents and global internet watchdog NetBlocks.
Core items:
WhatsApp and Instagram, the last remaining social media and messaging apps allowed in Iran, were banned on Wednesday
This was followed within hours by a widespread internet shutdown
Ten people were reportedly killed during the protests
The death last week of 22-year-old Mahsa Amini, who was arrested by Tehran's morality police for "unsuitable clothing", sparked fury over issues such as freedoms in the Islamic Republic and a sanctions-wound economy.
Ten people were killed in the protests, including A 16-year-old boy was shot dead when security forces opened fire on protesters.
Kurdish rights group Hengaw said 450 people were injured in Iran's Kurdish regions, in addition to Kurdish protesters who have died from "direct fire" from government forces over the past four days.
The reports could not be independently verified.
With protests now taking place in more than 50 cities and towns, Iranian authorities have restricted communications, making it difficult to organize protests and share information.
Isik Mater, head of research at NetBlocks, said WhatsApp was the first platform targeted on Wednesday, followed shortly after by Instagram, restricting the last remaining social media and messaging apps allowed in Iran.
"This was followed within hours by a widespread internet shutdown with severe impacts on cellular networks," Ms Mater told ABC.
"The restrictions will continue to create additional barriers to communications within Iran and with the outside world."
Meta Platforms, the owner of Instagram and WhatsApp, did not immediately respond to a request for comment.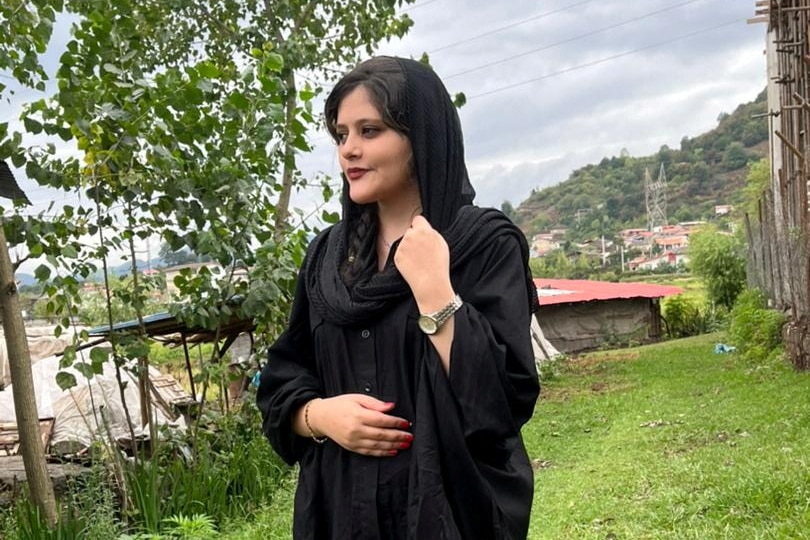 Ms. Amini, who was from the Kurdish city of Saqez, was visiting the capital Tehran with her family when she was arrested by the vice squad.
She collapsed after being taken to a detention center for "education" and died in hospital three days later.
Her father said she had no health problems and that she suffered bruises on her legs while in detention.
He blames the police for her death. Police have denied harming her.
Protesters burn hijabs and chant 'Death to the Dictator'
After protests began at Ms Amini's funeral in the Kurdish region on Saturday, they have engulfed much of the country and sparked confrontations as security forces tried to quell them.
According to Iranian law, women must cover their hair with a hijab and their arms and legs with loose clothing.
Women have waved and burned their hijabs or headscarves during the protests, and some have cut their hair in public.
Videos released online from Wednesday's unrest showed protesters in Tehran chanting, "No to the headscarf, no to the turban, yes to freedom and equality!"
Other videos shared on social media show protesters damaging symbols of the Islamic Republic and confronting security forces.
One shows a man scaling the facade of City Hall in the northern city of Sari and tearing down a picture of Ayatollah Ruhollah Khomeini, who founded the Islamic Republic after the 1979 revolution.
Another shows hundreds of people shouting "Death to the dictator" at Tehran University.
The ABC could not verify the authenticity of the videos.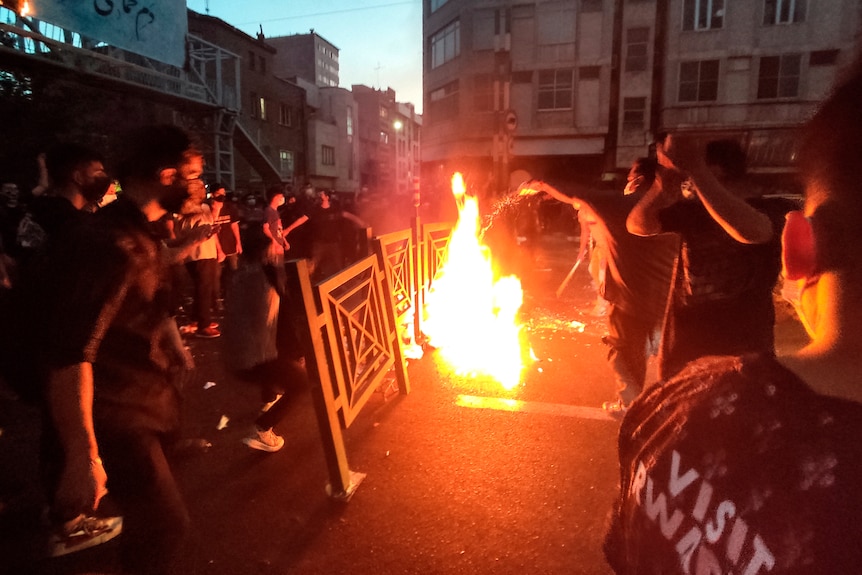 State media and officials have portrayed the riots as riots carried out by "anti-revolutionary elements".
Members of the Basij, a militia under the umbrella of Iran's Revolutionary Guards, held their own rallies in Tehran on Wednesday.
"The vice police are just an excuse, their target is the regime itself," they chanted in a video posted to 1500tasvir.
Zainab Hosseni of Melbourne's Iranian Women's Association said it was not surprising that protesters clashed with police.
"This is just a natural response to years of deprivation," she said.
"The community in Iran, 70 percent of the population is under 30 years old. People want freedom, people want basic rights."