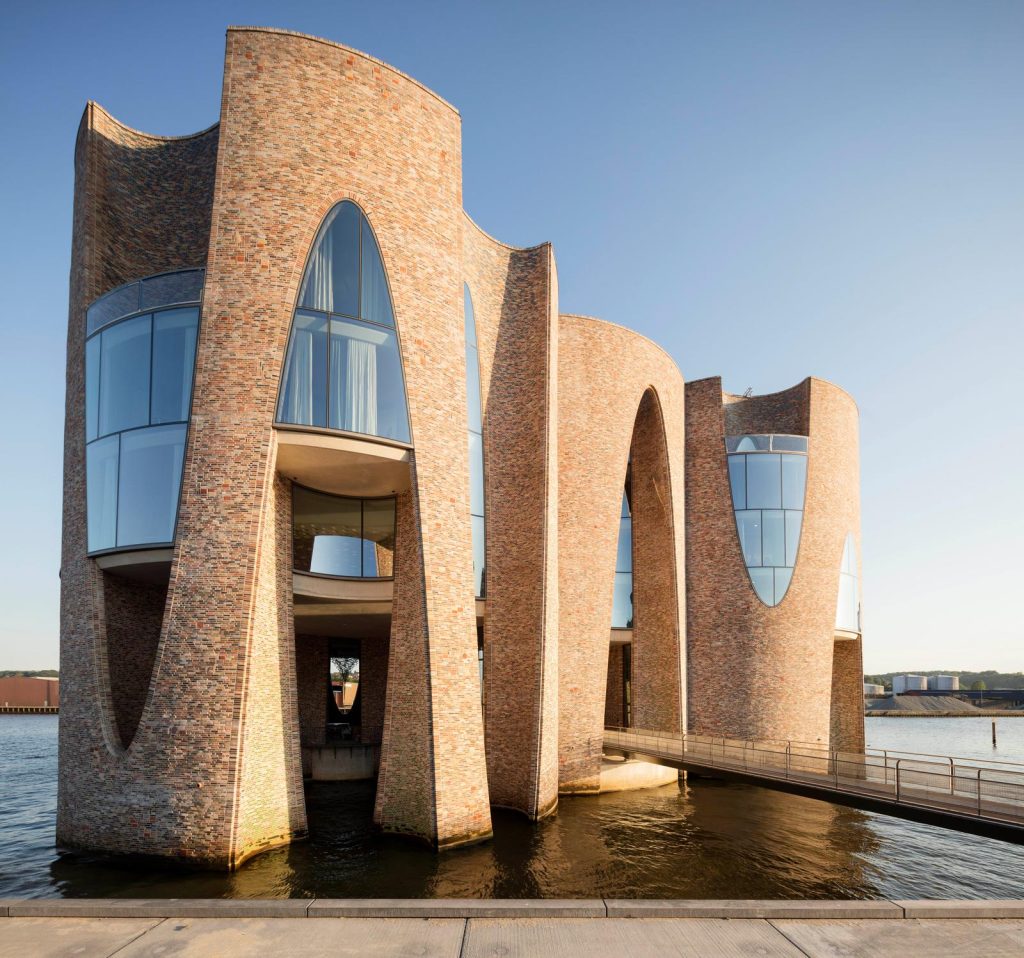 Fjordenhus was the first building by Icelandic-Danish artist Olafur Eliasson, famous for his large-scale sculpture and installation. Similar to the floating castle in Denmark's Vejle Fjord, Eliasson designed the building with his partner architect Sebastian Behman, Fjordenhus, which will be used as the company's office building, known as KIRK KAPITAL.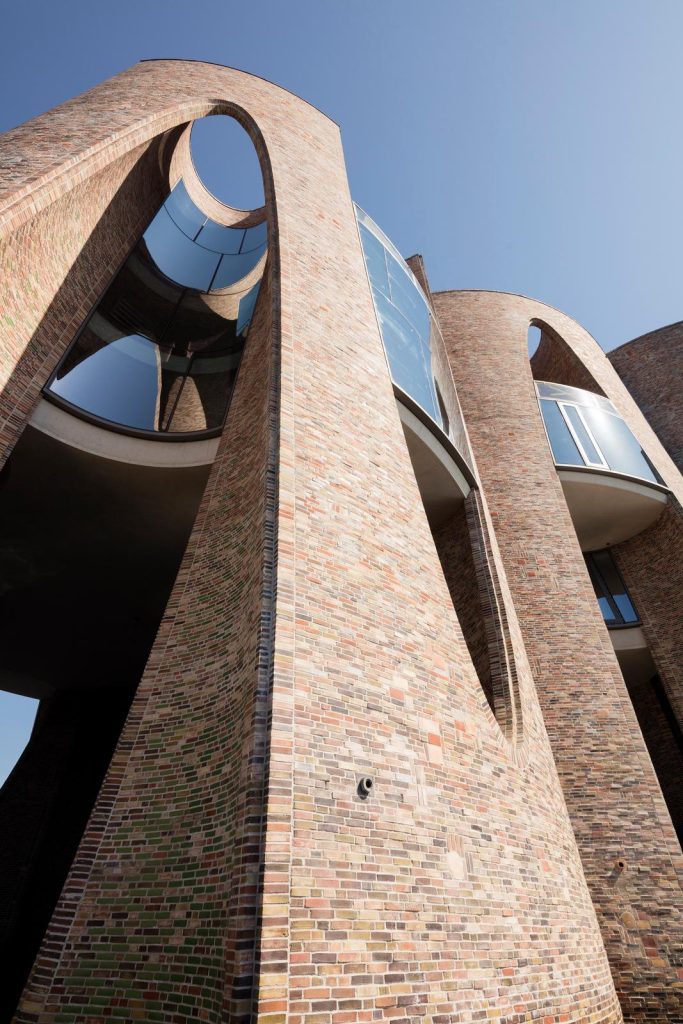 Eliasson's design connects the city's land by a bridge and the port by an underground walkway. A pedestrian bridge connects visitors to the building from the ground floor. This section has views of the entire harbor. The building has three floors and two floors open to the public.
Fjordenhus is part of the Vejle harbor master plan, which includes a fill area. residential area new landscape area and a large square Eliasson's field work on the master plan. which advances with the work of a company called Kirk Capital as an office building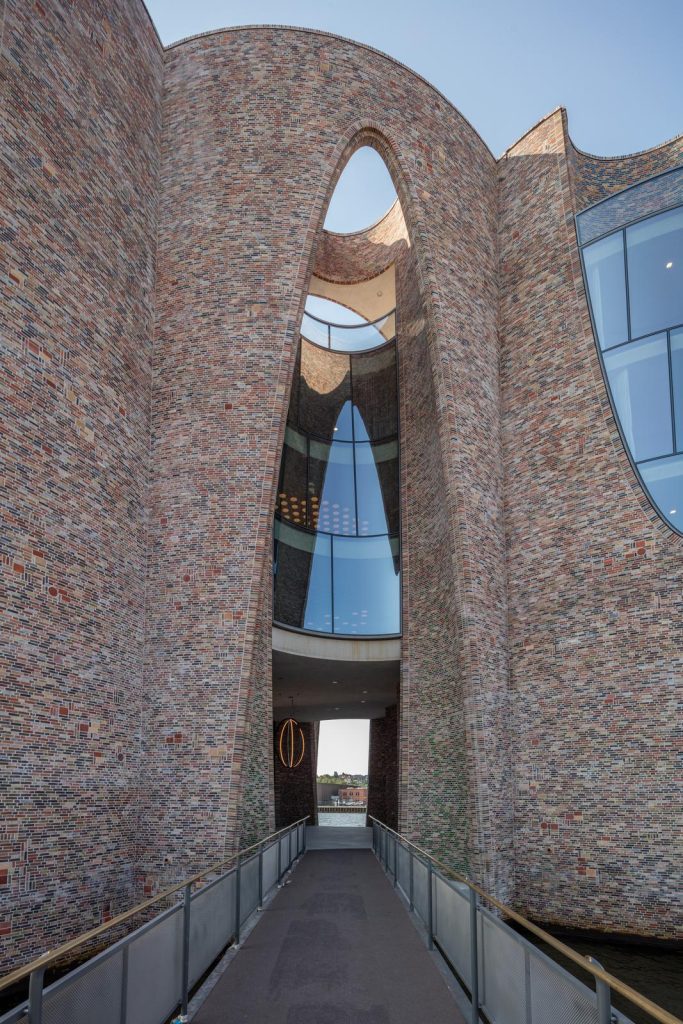 The public spaces designed for Fjordenhus were planned to continue the square designed within the framework of the master plan. The last stop on the route, designed as a promenade that stretches from the city center to the fjord, is the ground floor of the building. Eliasson and his team continue to design a symbol of the harbor and its people. city This is one of the reasons why the building is unique and distinctive.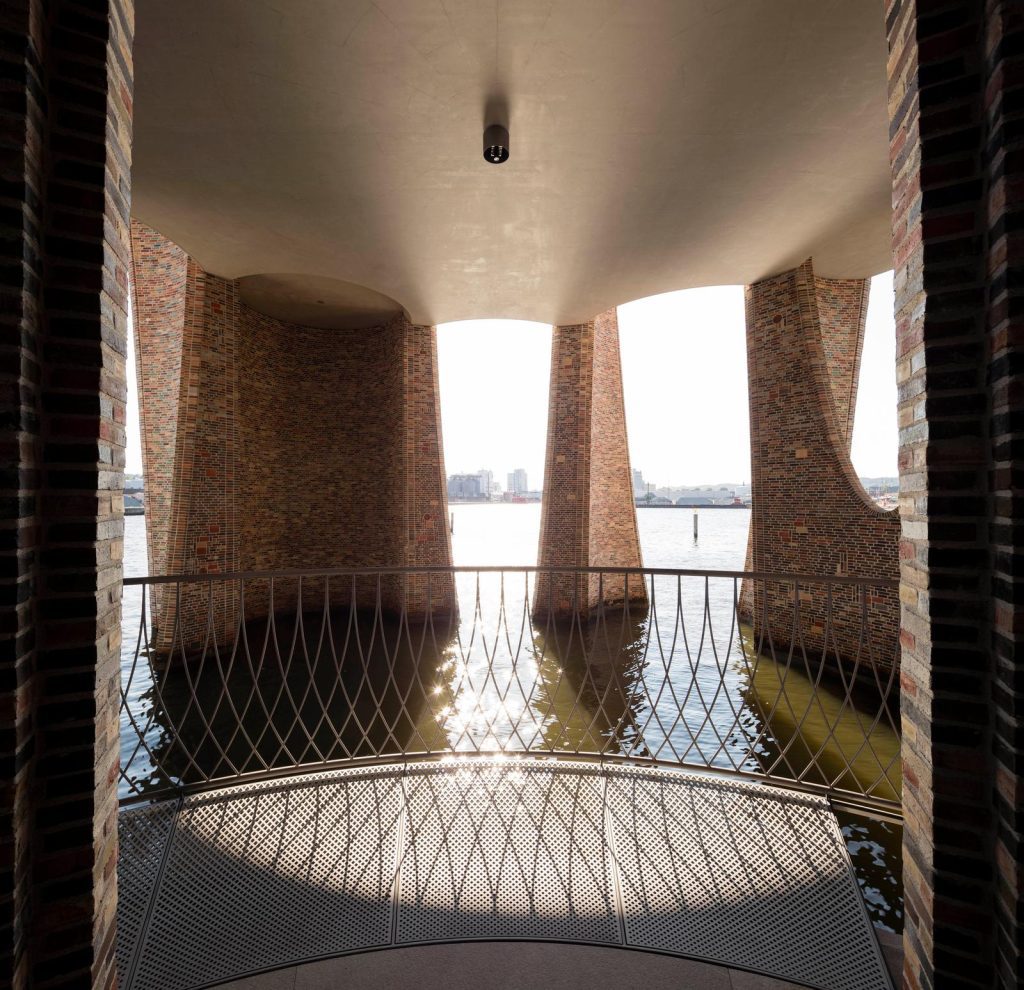 Four intersecting circles form the geometry of Fjordenhus. All these masses, which are raised and cylindrical, are carved. The cavity forms a circular arc at one end of the mass and folds into an oval at the other. The 4-compartment cylinder has glass-enclosed openings in different positions. The opening is also arc-shaped out of the mass.
Each exterior has a brick layout in different ways. The bricks on the facade are coordinated according to the amount of light the facade receives. For example, most blue glass bricks are close to the floor of the structure. Take the blue brick at the highest point. in the interior The purpose of the room will determine the brickwork of the facade.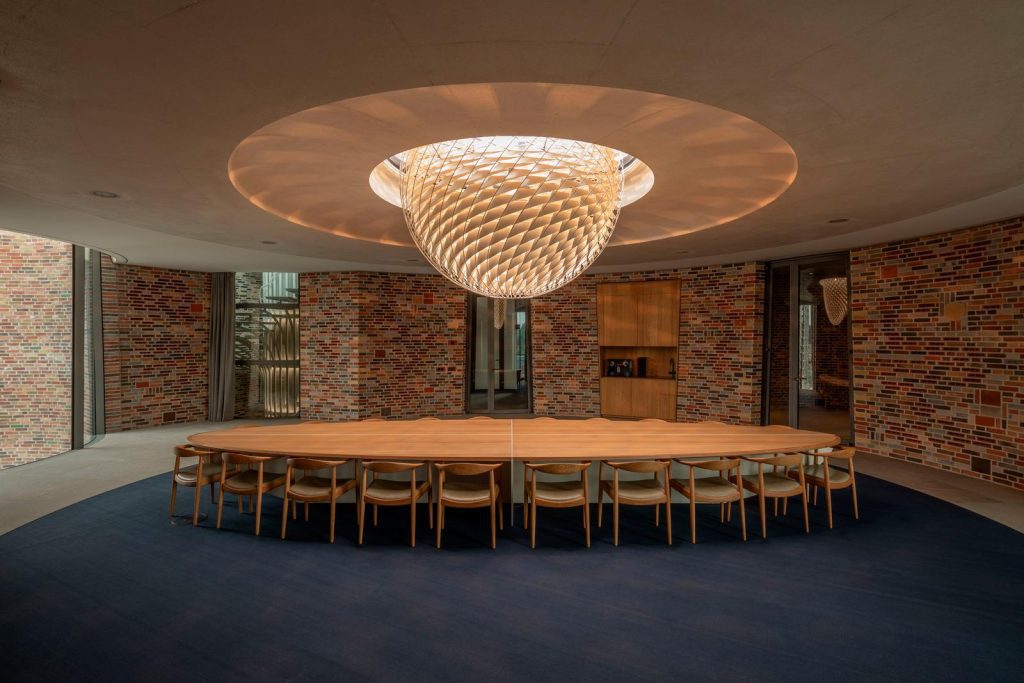 Some of the bricks used in interior decoration are porous: these bricks are chosen for their structural ventilation and temperature qualities.
All Fjordenhus furniture, including meeting rooms, boardrooms, dining areas. and roof terrace All are designed by Eliasson. The artist sees the building as a means of conveying the experience of many works of art and installations for himself and his studio.
Fjordenhus is Studio Olafur Eliasson's first solo design, which previously appeared with the Serpentine Pavilion and the Harpa Concert Hall project in 2007.
project information
architect: Studio Olafur Eliasson and Sebastian Behmann
location: Vejle, Denmark
year: 2009-2018
manufacturer: HAVER & BOECKER, Ginna Sands, Waagner-Biro Stahlbau AG
engineering: COWI
project manager: Fleming Hoff Jacobsen, Handsback & Henriksen
acoustic engineering: Ged & Mortensen Agustic
environmental engineering: Transsolar Energietechnik GmbH
landscape architect: Vogt Landscape
Consulting Engineer: ArtEngineering GmbH
artist: Olafer Eliasson
design team: VOGT
project architect: Caspar Teichgräber
local architect: Lundgaard & Tranberg Architecture
customer: Kirk Capital
manager: Jorn Andreasen, Hundsbak & Henriksen
Technical supervision: Hundsbak & Henriksen
Fire Consulting: Hundsbak & Henriksen
safety: Eggersen Miljo & Sikkerhed APS
photography: Under Soon Berg