The lab at UH Mānoa visualizes complex information to solve problems related to tourism, climate change, the brain and more.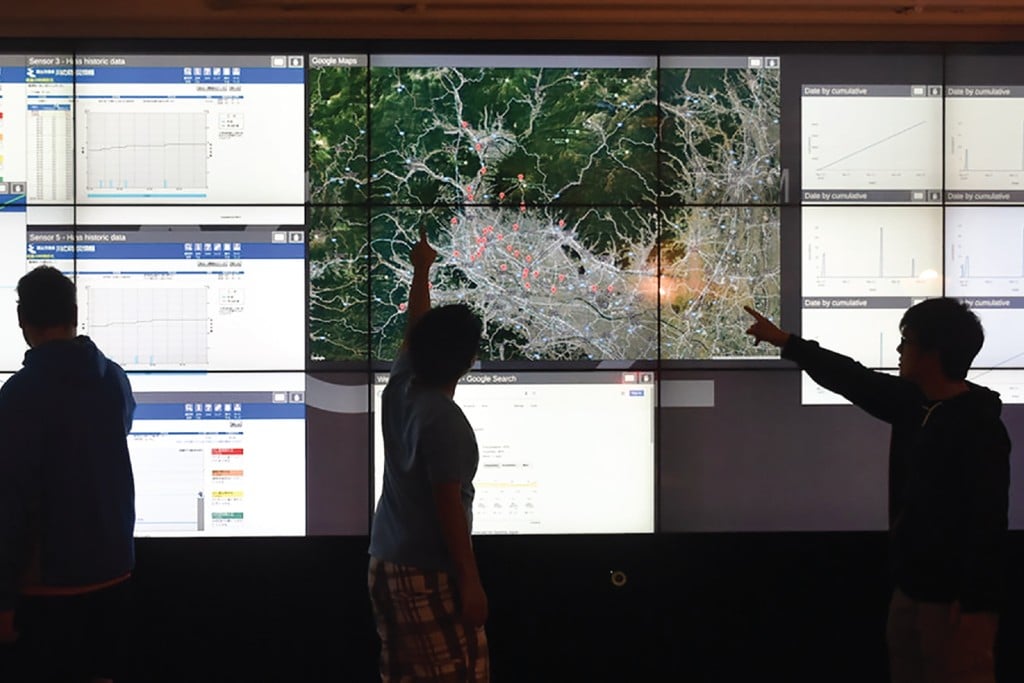 UH Mānoa becomes a leader in data visualization, virtual reality and artificial intelligence thanks to Jason Leigh and LAVA, the Laboratory for Advanced Visualization & Applications.
Leigh is a former professor and director of the Electronic Visualization Laboratory at the University of Illinois Chicago. In 2012, UH asked him to set up a lab specializing in data analysis—that is, interpreting, analyzing, and communicating data—and computer graphics.
"Hawai'i didn't really have any presence on the world stage for data visualization, virtual reality, game design and things like that. And that was really the genesis, just unwrapping the need for a capability like that," says Leigh.
LAVA's goal is to help solve problems by making data available to scientists, policy makers and the public in a visual and graphical way that makes the information easier to understand. A better understanding of the data, says Leigh, could help everyone make better decisions.
Works on climate science
LAVA's projects are diverse: In May, the National Science Foundation awarded a five-year, $20 million grant to Change HI, a collaboration between LAVA and other research teams on eight data and climate science projects
"We work a lot with researchers who are trying to do things like solve climate change or figure out how we can help Hawaii achieve 100% renewable (energy) by 2045," says Leigh. "Usually they come to us with data and say, 'How do you get this data across in a way that scientists can understand but also the general public can understand?' … What compromises do you have to make? So it's always a mix of that pure science and the need to solve a problem."
He says that when analyzing a problem, the LAVA team considers all facets to find the best possible solution. Team members can delve into tourism and ask what tourists love most in Hawaii so they can help businesses better serve customers. You can also consider the impact of tourism on the islands to understand how damage can be reduced.
National Awards
Several LAVA projects have been awarded. PhD students Alberto González Martínez, Troy Wooton, Nurit Kirshenbaum and Dylan Kobayashi – and Leigh, their mentor – won Best Paper in Trending Now – Machine Learning and Artificial Intelligence for their work on Zexplorer, a human-moderated AI that analyzes research publications. Her award was presented at the "Practice & Experience in Advanced Research Computing 2020" conference.
At a national competition in 2022, three LAVA graduate students – Michael Rogers, Roderick Tabalba and Yoshiki Takagi – won with their submission of CyberCOP (Common Operating Picture), an application that uses virtual reality to help operators visualize satellite orbits and defend against cyber attacks.
One of LAVA's greatest assets is the Destiny CyberCANOE at UH Mānoa, an extremely high-resolution hybrid reality visualization system. Funded by the National Science Foundation and the UH Academy for Creative Media, this research tool allows users to visualize big data in an immersive 3D environment.
The Destiny CyberCANOE, Leigh explains, consists of a room the size of a large school classroom, equipped with touch-sensitive display walls that allow you to "see really exquisite three-dimensional images created by the computer" by simply pressing a light Put on weight 3D glasses, like those handed out in the cinema.
The high resolution comes from 256 million pixels on the screen, far more than anything previously developed. OLED display technology – Organic Light Emitting Diodes – was exclusive to Destiny CyberCANOE when it was developed in 2016.
"So it was pretty much the best version of virtual reality for surround screens that anyone had ever produced at the time," says Leigh.
Immersive Vision
A video from LAVA's website shows how this technology has proven helpful to professionals in a variety of fields. For example, a psychiatrist can use it to better understand brain scans by looking at the structure of the brain in an immersive and up-close way. Environmental scientists can use it to better visualize the data they've collected on distant problems like melting ice in the Arctic.
Some of LAVA's projects have a connection to Polynesian culture, such as the free Samoan/English online dictionary, which makes translation easier and more accessible. They also developed Kilo Hoku VR, a virtual reality simulation of sailing the Hōkūle'a that helps users understand the application of astronomy in Hawaiian wayfinding.
Drawing inspiration from the iconography of data visualization and Polynesian tattoo art, the LAVA logo includes a wave design. In both data visualization and Polynesian tattoos, the goal is storytelling.
According to Leigh, the lab has hired about 50 students who have received grants from the National Science Foundation and other sponsors such as the US Department of Energy, the military, the NSA, Oceanit, Hawaiian Electric and the Hawai'i State Energy Office.
Learn more at lavaflow.info.
See also: A look inside UH West O'ahu's Digital Emerging Media Lab