To create the iPhone 14 Pro's display with the pill-shaped cutout at the top, Apple asked Samsung, the company's leading display supplier, to use a more advanced production method that protects the surrounding display from possible damage and loss of image quality, according to a new report of The elec.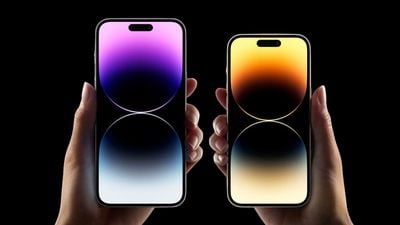 The iPhone 14 Pro and iPhone 14 Pro Max are the first iPhones with a cutout directly in the display, unlike other iPhones that have a notch that protrudes downward from the top bezel. The report says that Apple asked Samsung to use additional inkjet equipment when producing their high-end iPhone displays to create the cutout while preserving the surrounding OLED panel.
To create the pill-shaped cutout in the display, Samsung has to drill the pill-shaped hole directly in the OLED panel, but this means that there is a possibility that the surrounding pixels and panels can be damaged and, if so, exposed to moisture. Oxygen. To prevent possible exposure to moisture and oxygen, the report says Samsung built a dam that separated the pill-shaped cutout from the surrounding pixels. From a machine translated copy of the report:
This is due to the first hole display applied to the iPhone 14 Pro lineup. To make a hole for the front camera lens, etc, on top of the OLED screen, a hole must be drilled in the post-process (module process). If the thin film encapsulation is damaged, the OLED will be exposed to moisture and oxygen, and the life of the product will be drastically shortened.

For this reason, Samsung Display is known to have used inkjet equipment to build a dam that separates the hole from the rest of the region after making thin film encryption and touch electrodes in the iPhone 14 Pro lineup OLED, flattening areas with uneven heights . . Samsung Display could perform this process with a laser instead of inkjet equipment, but Apple is said to prefer the inkjet method.
Samsung has extensive experience in the production of displays, including those with cutouts. The company's own line of smartphones has single hole-punch cutouts that house the front-facing camera. With the iPhone 14 Pro, however, the report says that Apple has taken extra care with the production of the displays for the iPhone 14 Pro and iPhone 14 Pro Max to ensure that the cutouts do not interfere with the surrounding pixels and degrade the image quality.
The elec says LG Display, Apple's other display supplier, also used the same method for its batch of displays for the iPhone 14 Pro and iPhone 14 Pro Max. The iPhone 14 and iPhone 14 Plus have the same display notch as previous iPhones, but the lower models of next year's iPhone lineup are rumored to have the same pill-shaped cutouts for Dynamic Island as the iPhone 14 Pro.